We prepare you to take on society's most complex challenges. You help make the world a better place.
There are many paths of learning. Find yours here.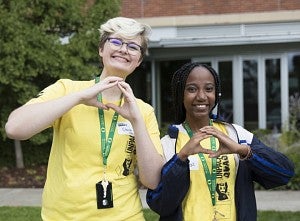 Undergraduate Studies
Wherever your academic goals eventually take you at the UO, all Ducks begin their journey with foundational courses in CAS. More than 60 percent of students go on to pursue a major in a CAS department or program. With nearly 50 departments and programs, there's an intellectual home for almost any interest, talent, or career aspiration.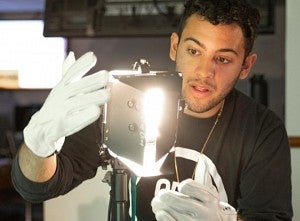 Graduate Studies
The College of Arts and Sciences offers more than 40 masters' programs and more than 20 doctoral programs across a diverse range of disciplines. Both as contributors to research teams and through their own scholarship and teaching, our CAS graduate students are indispensable to the vitality of the UO academic mission.
The College of Arts and Sciences faculty are a driving force of the high-output, high-impact research activity that has earned the UO membership in the prestigious Association of American Universities (AAU). Our world-class faculty members are inspiring teachers.
Among them are five members of the American Academy of Arts and Sciences, four members of the National Academy of Sciences, and 10 Members of the American Association for the Advancement of Science. They are committed to helping students discover their academic passion. Every day, they work to expand students' intellectual horizons, preparing them for life after college with real-world knowledge and skills.
Hands-on Learning Leads to Real-World Solutions.
You're pursuing a college degree to find a life-long career in the professional world – that's why CAS makes real-world experience a big part of our curriculum.
We believe that some of the most important learning can happen outside the classroom. Our students explore the many options available for fieldwork, internships, and creative learning-by-doing opportunities.
In order to help connect their course of study with post-college goals, all CAS students receive integrated academic and career advising services in the state-of-the-art Tykeson Hall.
CAS Alumni Making an Impact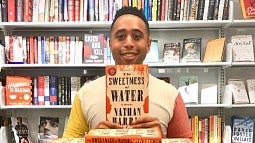 Nathan Harris, BA '14
Harris graduated with a B.A. in English, and now he's a New York Times best-selling author. His book, The Sweetness of Water, has been a smash hit. Nathan Harris has always known he wanted to be a writer. When it came time to apply for college, Harris canvassed his options, and the University of Oregon offered a unique creative writing curriculum. From the yearlong Kidd Tutorial program to the robust Creative Writing program, Harris said the College of Arts and Sciences had everything he wanted.
Harris' best advice for current UO students in the English and Creative Writing programs? Don't be afraid of reaching out to anyone in the departments, and don't shy away from ambitions. "The professors really foster an environment where you can grow as a writer, practice your craft, and get the feedback you need to improve," he said. "So always have the courage to follow your dreams."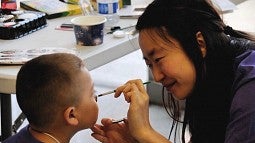 Nayeon Kim, BA '15
As a Romance language and history major, Nayeon Kim jumped into immigration advocacy at the US-Mexico border, where she did asylum work after graduation. Kim believes there is benefit to society in reducing the prison terms of people of color and others victimized by excessive sentences and systemic racism. And she is dedicated to this work.
Kim is now finishing up her law degree at City University of New York (CUNY) in 2022, which puts her one step closer to that goal. At the UO, Kim was part of the Inside Out program that unites college students and incarcerated people in academic courses in prison. "The more incarcerated people I met, the more I knew there was no going back to a life where I could ignore prisons," Kim says. "Lawyers have tools to disrupt the ongoing violence in people's lives, so that's what I want to do." 
The College of Arts and Sciences includes:
54
undergraduate degree programs
10,000+
Undergraduate students in CAS Majors
1,285
masters and PhD students in CAS

Odalis Aguilar-Aguilar
Latin American Studies and Spanish double major
While growing up in the Portland area, Odalis Aguilar-Aguilar, whose family is from the Mexican state of Oaxaca, attended public schools, but wasn't taught about her home country's culture or its shared history with the US. The omission also made her keenly aware of the voices of those who helped shape America but remain unheard. 
When history professor Julie Weise invited her to work on a research project that involved the Bracero farm worker program, Aguilar-Aguilar jumped at the chance to learn more. She especially wanted to examine a group that had been largely ignored—the wives, women, and children whose husbands, fathers, brothers, uncles, and cousins went north seeking better-paying work on US farms, fields, and ranches. Now, she has reviewed hundreds of oral histories and read synopses of 200 or so transcribed interviews. She will use her data both to contribute to Professor Weise's project and to develop her own publication.

Breyaundra Woods
Neuroscience major
 Breyaundra Woods found her fascination for neuroscience after reading a book on phantom limb syndrome. During her time at the UO, Woods helped co-found the UO chapter of Synapse, a nonprofit, student-run organization working to support and serve local brain injury survivors. Her studies in neuroscience directly play into her work for Synapse, and she plans to continue this work in the medical field.
"I think anyone is capable of anything. If you have enough drive, interest, and passion for this final frontier of research and science, then go for it," Woods said. "You will find colleagues and friends that you'll build relationships with, and that will help you get to the point where you want to be. I can promise you, you will find your niche; I know I found mine."
School of Global Studies and Languages
Ecological sustainability. Transnational migration. Food security. Public health. Conflict resolution. Indigenous cultural survival. Many of the greatest challenges confronting today's world recognize no boundaries. The solutions will require cross-cultural communication and frameworks of mutual respect and understanding.
To help prepare our students for global lives and careers, 13 academic departments and programs in CAS have joined together under one roof — the new School of Global Studies and Languages, located in historic Friendly Hall. Students who seek a path of study with an international focus will find an intellectual home and community here.
We provide our students with a variety of resources to help you thrive inside and outside the classroom. Through Tykeson Advising, we provide comprehensive academic and career advising from the start of your journey at the University of Oregon. Learn about career preparation and get assistance in selecting the very best classes. Connect with labs, libraries, IT and tutoring. Find your community on campus.
The University of Oregon's Eugene campus is located on Kalapuya Ilihi, the traditional indigenous homeland of the Kalapuya people. Following treaties between 1851 and 1855, Kalapuya people were dispossessed of their indigenous homeland by the United States government and forcibly removed to the Coast Reservation in Western Oregon.
Today, descendants are citizens of the Confederated Tribes of Grand Ronde Community of Oregon and the Confederated Tribes of the Siletz Indians of Oregon, and continue to make important contributions in their communities, at the University of Oregon, and across the land we now refer to as Oregon.