We offer the opportunity for seminars at the 400 level, departmental honors thesis, the Lowenstam annual essay, awarded to the best classics paper of the year, and the opportunity to participate in regional conferences such as the Classical Association of the Pacific Northwest. Please contact a classics advisor to learn more about the opportunities that the Department of Classics has to offer. 
---
In 2017, the Department of Classics assembled $15,000 in funding from within and outside the University of Oregon, including a $5,000 donation from Jill Overley, in order to purchase antiquities from the Toledo Museum of Art. These pieces had previously been stored in their basement, and they were offering them to accredited U.S. museums. The department was able to buy eight pieces as the beginning of a teaching collection to be displayed at The Jordan Schnitzer Museum of Art (JSMA). This collection is important because it is "well provenanced," meaning it holds to the highest anti-looting standards in the U.S. The pieces are on display at the JSMA, and students are actually able to pick them up and handle them. We are very excited to have physical remains from the ancient Mediterranean here in Oregon. Offering students the chance to touch a pitcher that someone filled with wine or water 2,300 years ago is an experience unlike any other offered here in the Department of Classics.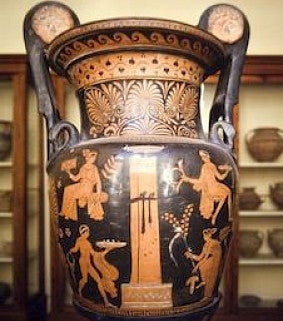 Lowenstam Collection of Ancient Western Art and Archaeology is a 35mm slide collection of University of Oregon Classics professor Steven Lowenstam (1945-2003). It was compiled over a lifetime of scholarship and inquiry into the visual culture of the classical world. The collection was digitized in the UO Libraries Visual Resources Collection and is available to research through the UO and Oregon State University Libraries.