Courses
English courses provide a broad knowledge of liberal arts education, helping you think and write critically. We feature an average class size of 23 students in undergraduate classes. Our faculty focus on essential skills for college success, ethical living, and career readiness. 
The University of Oregon course catalog offers degree plans and a complete list of undergraduate and graduate courses in the Department of English.
Course Highlights
These three courses span lower and upper division coursework.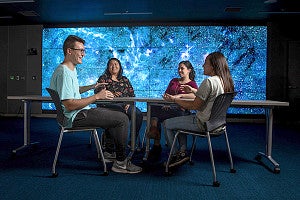 ENG 470
Technologies and Texts Capstone
Instructor: Heidi Kaufman
Technologies and Texts Capstone is a course designed to address the digital turn in public contemporary culture, academic culture, and the humanities. This turn has profound implications for the way we interact with and understand the role of the humanities in the public sphere and the transmission of the written word into digital forms.
ENG 280
Intro to Comic Studies
Instructor: Ben Saunders or additional faculty
This class provides an introduction to the history and art of comics and to the methodologies of the academic discipline of Comics Studies. Students will be exposed to a range of different comic-art forms (including newspaper strips, collections of serialized comic books, and free-standing graphic novels), as well as examples of contemporary comics scholarship.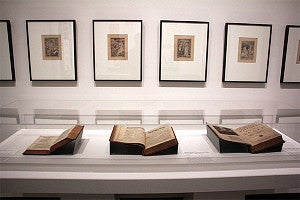 ENG 395
20th Century Literature
Instructor: Corbett Upton
Modern literature from American, British, and European cultures, 1945 to present. Significant works of poetry, fiction, drama, and nonfiction in relation to intellectual and historical developments.
The table below lists the courses that the Department of English anticipates offering for Spring Term 2022 for the English major. The table is updated as curriculum decisions are made, so check back when considering future registration choices.
Course Number
Course Name
Term Offered
100-level General Education
ENG 104
Introduction to Literature: Fiction
Spring 2022
ENG 104
Introduction to Literature: Fiction
Spring 2022
ENG 106
Introduction to Literature: Poetry
Spring 2022
200-level Required of Major
ENG 205
Genre Topic: Life Writing
Spring 2022
ENG 205
Genre Topic: Plague Literature
Spring 2022
ENG 205
Genre Topic: Gothic Fiction
Spring 2022
ENG 207
Shakespeare
Spring 2022
ENG 230
Intro Environment Lit
Spring 2022
ENG 243
Introduction to Chicano and Latino Literature
Spring 2022
FLR 250
Introduction to Folklore
Spring 2022
ENG 260M
Media Aesthetics
Spring 2022
ENG 260M
Media Aesthetics
Spring 2022
ENG 280
Introduction to Comic Studies
Spring 2022
300-level Required of Major
ENG 315
Women Writers' Cultures Topic: Modernist Women
Spring 2022
ENG 316
Women Writers' Forms Topic: Graphic Memoirs
Spring 2022
WR 320
Scientific and Technical Writing
Spring 2022
WR 321
Business Communications
Spring 2022
ENG 321
English Novel
Spring 2022
ENG 322
English Novel
Spring 2022
ENG 325
Literature of the Northwest
Spring 2022
ENG 330
Oral Controversy and Advocacy
Spring 2022
ENG 335
Inventing Arguments
Spring 2022
ENG 340
Jewish Writers
Spring 2022
ENG 352
Shakespeare on Page and Stage
Spring 2022
ENG 365
Global Literature in English
Spring 2022
ENG 385
Graphic Narratives and Cultural Theory
Spring 2022
ENG 386
Bodies in Comics
Spring 2022
ENG 391
American Novel
Spring 2022
ENG 394
20th-Century Literature
Spring 2022
ENG 395
20th-Century Literature (Cancelled)
Spring 2022
400-level
ENG 407
Seminar: 21st Century Poets
Spring 2022
ENG 410
Experimental Course: Comics Journalism
Spring 2022
ENG 413
Theories of Literacy
Spring 2022
WR 423
Advanced Composition
Spring 2022
ENG 425
Medieval Romance
Spring 2022
ENG 430
Old English III: Beowulf
Spring 2022
ENG 468
Ethnic Literature Topic: Black Rebellions
Spring 2022
ENG 470
Technologies and Texts Capstone
Spring 2022
ENG 485
Television Studies
Spring 2022
ENG 491
Rhetoric and Ethics
Spring 2022
ENVS 410
Topic: Cascade Ice & Fire
Spring 2022
FLR 410
Oral Traditions in Ancient and Modern Culture
Spring 2022
FLR 410
Celtic Myths & Legends
Spring 2022
FLR 411
Folklore & Religion
Spring 2022