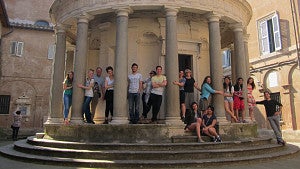 Travel and Study Around the World 
Every country and culture approaches language differently. One excellent way to gain a well-rounded and diverse view of the field of English is to live and study in another country. Study abroad is a unique experience that often leads students to personal growth and cultural immersion, and one that can help develop academic and professional skills. The University of Oregon offers roughly 15 study abroad programs at top academic institutions and GEO Centers around the world through the Global Education Oregon (GEO) office that can fulfill your English major or minor requirements while providing a uniquely immersive experience. 
Study Abroad with UO 
English is a discipline greatly enhanced by learning from other cultures and perspectives. From race and ethnicity to medical humanities, creative writing, and everything in between, even the most niche of concentrations is enhanced by being studied in another country. The best way to prepare for a career with an English degree is to study or intern abroad. 
The University of Oregon offers roughly 15 study abroad programs that can satisfy your ENG major or minor requirements. Programs are currently offered in Ghana, the UK, Ireland, Italy, India, China, and more. Alternatively, you can intern abroad through the GlobalWorks International Internship program in a variety of regions around the world. 
International Exchange  
Students can enroll as an exchange student at a top international institution for a semester (fall or fall/winter), spring quarter, full academic year, or summer term. Exchange students experience an immersive study abroad experience, living and learning with local students in their chosen city. 
Get Started: Fill out this interest form to get matched with a GEO advisor 
---
Featured Study Abroad Opportunities in English
Location: Siena, Italy (region of Tuscany) 
Traditional creative writing fiction workshop and seminar 
Terms: Summer 
Credits: 8 credits (2 courses) 
Location: Galway, Ireland (United Kingdom) 
Study of the Irish past and present with a rich array of classroom speakers, field trips, and Ireland's premier film festival and arts festival 
Terms: Summer
Credits: 3-7 credits (1-3 courses) 
The GlobalWorks International Internship Program, administered by the UO Global Studies Institute (GSI), offers internship opportunities in a wide variety of industry sectors and locations around the world. Internship opportunities are highly customizable, and we guarantee placement in your preferred sector and location. Students earn up to 8 UO credits as well as life-changing work experience in a different culture. 
Please email globalworks@uoregon.edu to discuss your options. 
Application Deadlines for GlobalWorks
Fall
Winter
Spring
Summer
April 1, June 1
Sept 1
Dec 1
Jan 15