Providing the skills, confidence and inspiration to make a difference!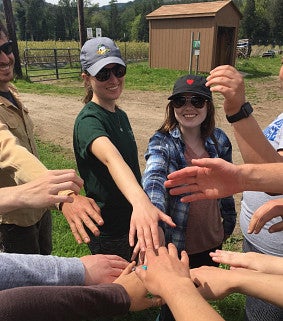 The Environmental Leadership Program is a collaborative, interdisciplinary service-learning program housed in Environmental Studies. We match student teams with non-profit organizations, government agencies and businesses to address local environmental needs. Our students gain leadership, communication, and professional skills by engaging directly in applied problem-resolution while providing valuable assistance to our community partners. 
Our goals are to provide: 
Undergraduate students with unique and practical learning experiences that develop field-based research, writing and presentation skills; 
Graduate students with project management and team-building experience and skills; and 
Organizations with cost-effective and high-quality services. 
---
Projects 
We develop our projects cooperatively with community partners. Depending on partners' needs, projects can address environmental education and outreach, natural resource management, habitat restoration, species conservation, environmental monitoring, sustainable business practices, ecotourism, recreation management, environmental justice, and other topics. 
Currently, we have four primary focal areas.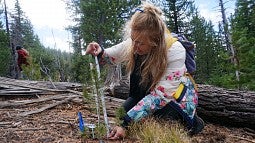 In our Conservation Science in Action projects, students assist community partners by completing hands-on restoration projects, creating assessments and management plans, or acquiring and analyzing needed environmental data.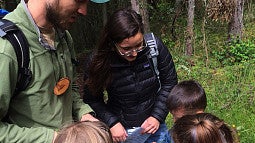 In our Environmental Education projects, students develop, implement, and share transformative learning experiences for children in nature. Students create scientifically rigorous curricula, teach programs in classrooms and conduct field trip activities.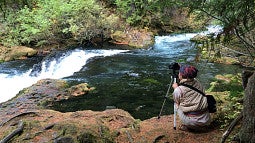 In our Community Engagement projects, students collect and share information with different audiences using creative methods, such as interpretive signs and museum displays, social media campaigns, and oral histories. For example, in our MyMcKenzie projects, students have promoted conservation of the beautiful and ecologically important McKenzie River through photography, creative writing and conversations with community members.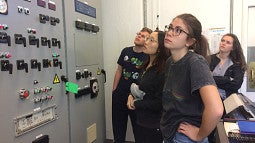 In our Sustainable Practices projects, students implement solutions that address and integrate concerns regarding environmental health, social equity, and economic success. Example projects include renewable energy, waste prevention and recycling, alternative transportation, sustainable business, and organic agriculture. 
---
How to Apply 
All 2021-22 projects are full. The 2022-23 project descriptions and application will be available October 2022. 
Download the Environmental Leadership Program Application
The Environmental Leadership Program is competitive and is open to undergraduates with at least junior standing, although priority consideration will be given to Environmental Studies and Environmental Science majors.  
Please fill out the application form and email it to Katie Lynch (klynch@uoregon.edu) and Peg Boulay (boulay@uoregon.edu). Don't forget to attach your resume. After receiving your application, Katie or Peg will email you to schedule an interview. 
---
Spring 2022 Projects 
All projects are full. The 2022-23 project descriptions and application will be available October 2022. 
ENVIRONMENTAL EDUCATION PROJECTS 
CONSERVATION SCIENCE PROJECTS 
Aves Compartidas 2022 
This team worked in partnership with the Willamette-Laja Twinning Project and River Road Elementary School to bring students together from Mexico and the US to learn about the migratory birds we share. Using birds as our focal point, we explored our ecological and cultural connections. The team's mission was to: "unite youth, educators, habitat restoration practitioners and the birding community for deep cultural connections and sustained conservation of our shared migratory species and habitats." Learn more about their project by visiting the team's website.
Birds and Blooms 
 Dorris Ranch is a national historic site, a living history farm, a working commercial filbert orchard, and a public park complete with walking trails and natural areas. During 2016-18, Willamalane Parks and Recreation District partnered with the Middle Fork Willamette Watershed Council to restore and enhance oak woodland and prairie habitats, which are imperiled in the Willamette Valley and home to many priority plant and animal species. This team evaluated the status of the project by collecting data on oak tree characteristics, invasive species, native wildflowers, bird use, and vegetation change through photo points. Learn more about their project by visiting the team's website.
Climate Science, Climate Justice 2022 
 This team worked in partnership with the H.J. Andrews Experimental Forest and science teachers from Fern Ridge Middle School. Their mission was to show science in action and engage middle school students in an interdisciplinary exploration of climate issues. The team developed and facilitated a pre-trip lesson, a day-long fieldtrip at Andrews Forest that included four hands-on investigations that explored forest ecology, microclimates, phenology, and climate justice, and a post-trip lesson.  Learn more about their project by visiting the team's website.
Promoting Pollinators 2022 
With the overall goals of providing shade for Goose Creek and habitat for pollinators within the context of an organic farm (Whitewater Ranch), this team enhanced, maintained and monitored a long-term riparian restoration project. The students planted native wildflowers, controlled invasive species, and collected data for vegetation, water temperature, aquatic macroinvertebrates, and pollinators. In addition, they worked with the UO Ponisio Lab to conduct research on the germination and growth of pollinator plantings in post-wildfire/post-salvage logging clearings. This is a continuation of our "Riparian Restoration" project with an increased emphasis on pollinators. Learn more about this project by visiting the team's website.
Restoring Connections 2022 
This team developed and implemented an environmental education program at Adams Elementary. The team facilitated a total of 11 class visits and field trips to Madison Meadow to help K-3 grade students cultivate their connection to nature, empathy for our living world, and an ethic of stewardship. The team gained experience with the development and implementation of hands-on learning experiences while providing a meaningful nature experience for young students.  Learn more about their project by visiting the team's website.
Fire and Fuels 
Burning by the Kalapuya peoples maintained a mosaic of oak and prairie habitats in the Willamette Valley. Since colonization by European settlers, fire suppression has led to habitat loss and degradation, as well as fuel buildup rendering forests more prone to catastrophic wildfires. With climate change increasing the risk and severity of wildfire, communities in the western U.S. are working to reduce fuels in the wildland-urban interface. In partnership with the City of Eugene's Parks and Open Space Division, this team collected vegetation data to evaluate effects of different methods of fuels management at Suzanne Arlie Park. The students tested a new protocol to examine fuel load and vegetative characteristics after treatment. Learn more about this project by visiting the team's website.