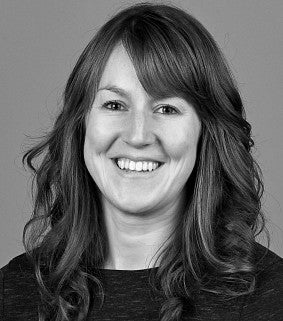 Tierney graduated with a B.A. and M.S. in Geography, and how she works for the Washington Post as a Graphics Editor.
Lauren Tierney found the geography department by accident. Originally a journalism major, Tierney joined a Freshman Interest Group (FIG) where she was introduced to geography through an Introduction to Physical Geography class. Tierney soon realized that climatology and weather were what fascinated her. After taking a climatology class in the geography department, Tierney knew she had found her niche.
"I absolutely fell in love and proceeded to take every geography class I could," Tierney said. "When I switched my major, I started taking human geography courses and then eventually got into the GIS courses. Seeing the combination of science and design to help communicate spatial information pulled me in further."
Tierney began working at the InfoGraphics lab towards the end of her undergraduate studies. She'd focused on climatology thus far, and she was just getting into mapping both through Geographic Information Systems (GIS) and cartography. Tierney decided to pursue a master's degree to continue developing her map-making skills.
"I got the InfoGraphics job right out of Jim Meacham's advanced cartography course," Tierney said. "That's where I learned-real world mapmaking skills. I was there for three years working on the Atlas of Wildlife Migration, and it was just incredible."
Tierney graduated from the UO with Bachelor's of Arts degrees in Geography and Spanish in 2012, followed by a Master's of Science in Geography in 2015. Shortly after, Tierney went to work for National Geographic Magazine, and now she's a Graphics Editor for the Washington Post. Coming full circle, Tierney found herself back in the world of journalism, but now she's focused on visual reporting.
Tierney's work involves telling stories with maps, and she specializes in mapping environment, climate, and wildlife. From labeling maps to prepping files for print, Tierney said her early work at National Geographic involved skills that were second nature to her after her time at the InfoGraphics Lab. She eventually moved to the books and atlas team, then moved to the magazine as a Graphics Editor, developing maps and graphics for the monthly issues. In 2017, Tierney moved to the Washington Post.
"When I started out as a journalism major, it was a lot of writing, which I enjoyed. But I missed working with data," Tierney said. "With geography, I found this nice pocket of both. At the Post, we're visual reporters so we're perusing a lot of data sets and finding ways to tell the news visually. When there's breaking news and it needs a quick locator map, I'll make that, but more often I'm pitching visual projects that are map focused and explore something more in depth, like interactive maps."
For current and prospective geography students, Tierney thinks taking a wide variety of courses is key in finding the area of geography to specialize in. From physical geography, human geography, GIS and cartography, there are many paths to follow within the department. For students who want to get into map making, the InfoGraphics Lab is an opportunity that's not to be missed, Tierney urges.
"The earlier you can take those GIS and advanced cartography courses, the better set up you will be to apply successfully to the InfoGraphics Lab," she advises. "I applied twice, and the first time I hadn't done any cartography courses yet, and I was nowhere near qualified. So I reapplied after taking Jim's cartography course, and that's what gave me the knowledge to be successful at the lab."
There are countless industries and specializations for geography majors. Tierney attributes her career success to time in the department and lab. She left the UO with the hands-on skills and experience she needed to step into the workforce and thrive. "I would not be where I am today without Jim Meacham, Alethea Steingisser, and all the things I learned in the Infographics Lab."
By Victoria Sanchez, College of Arts and Sciences Communications