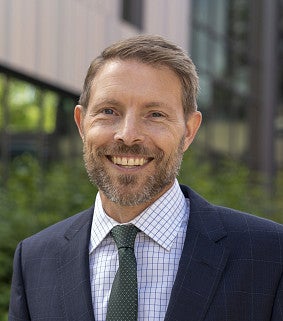 As the Tykeson Dean of the College of Arts and Sciences, Chris is committed to advancing the liberal arts mission and scholarly excellence of the college, and to creating a diverse community where all are welcome and can thrive. He believes that the teaching, learning, research, creation, and service that happens in the college contributes to making a more just, equitable, and sustainable world. His aim is to foster an inclusive climate that supports and celebrates this work.
As dean, Chris oversees the operations of the College of Arts and Sciences, which offers 51 major degree programs in the humanities, social sciences, and natural sciences, and includes 900 faculty members and more than 2,000 employees. He sits on the Academic Leadership Team and the Dean's Council. 
Chris is a climate scientist and professor of earth science at the University of Oregon. His research seeks to understand the causes of past climate change on Earth and what lessons they hold for predicting our future climate. Much of his work uses advanced theoretical climate models as tools for exploring climate processes and dynamics. To do his work, he collaborates closely with geologists, environmental scientists, and ecologists. He has co-authored over 130 articles on topics such as past cold and warm climates, climate-mountain interactions, and earth system modeling.
Chris is an associate editor at the American Journal of Science, and a former associate editor for Paleoceanography and Paleoclimatology. He is also a fellow of the Geological Society of America and the American Association for the Advancement of Science.
Before coming to the UO, Chris was the associate dean for natural sciences in the College of Literature, Science, and the Arts at the University of Michigan (2018-2022). He served as chair of the Department of Earth and Environmental Sciences at UM (2014-2018) and its associate chair for graduate studies from 2010-2014, among other administrative roles. At the University of Michigan, Chris received the John Dewey Award for excellence in teaching and was the Henry N. Pollack Collegiate Professor.
Chris earned his PhD in Geosciences from Pennsylvania State University and his bachelor's degree in Geology from Carleton College. He completed a post-doctorate in geophysical sciences at the University of Chicago. Following that, he was a professor at the University of Southern California for three years before moving to the University of Michigan.