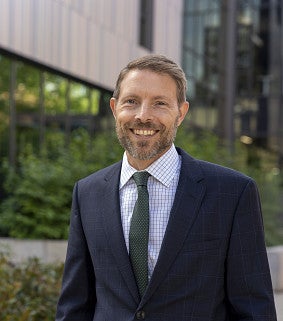 I'm delighted to welcome you to the College of Arts and Sciences (CAS), the University of Oregon's largest college and the heart of the university. Here you'll find a vibrant liberal arts community of engaged undergraduate and graduate students, a world-class faculty of teacher-scholars, and the resources to help you explore your passions and discover your unique path in life.  
In CAS, our mission is to train the next generation of citizens, scholars, and leaders and to create knowledge and understanding that will impact the state, nation, and world and lead to a more peaceful, fair, and sustainable future. To that end, we are committed to excellence in research and teaching, student success, and diversity, equity, and belonging. We are a scholarly community that cares for each other, that asks and answers difficult questions, and that celebrates and learns from our differences. 
We believe that a liberal arts education—one that offers breadth and a diversity of intellectual approaches and perspectives—is the foundation to a purposeful life as a citizen and leader. Studying the humanities teaches us to better understand ourselves and others. The social sciences instruct us on how society works and what drives individual and collective human behavior. And exploring the natural sciences—science, technology, and math—builds understanding of the physical universe in which we live and provides analytical, quantitative, and technical skills to help solve complex problems facing the world.  
The liberal arts are also a springboard to meaningful, fulfilling careers. In a rapidly changing world, employers seek graduates who are adaptable, collaborative, empathetic, creative, and broadly educated—qualities that can't be easily replicated by the newest technology. The skills we teach—from written and verbal communication, to analytical and technical thinking, to compassion and understanding, open the door to a wealth of career choices. CAS graduates consistently land positions in government, nonprofit organizations, and businesses across a broad array of industries, and are accepted in the most prestigious professional and graduate schools.  
Within CAS, the opportunities for discovery are endless. We offer more than 55 majors and a multitude of minors. You'll have the opportunity to conduct original research—in the lab, studio, library, and field—with our faculty members, who are researchers and scholars renowned in their disciplines. There are also many exciting opportunities for internships, volunteerships, and studying abroad. We offer robust support services for CAS students, including wrap-around advising through the Tykeson Career and College Advising Center, to help you decide who you want to become and map your trajectory through your major or minor.  
We look forward to sharing in your academic journey. 
Chris Poulsen
Tykeson Dean, College of Arts and Sciences