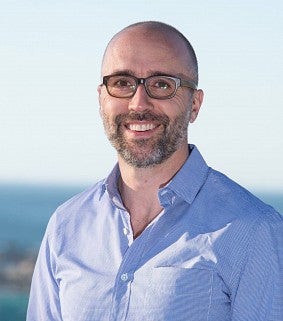 Mark Carrato earned his MA in Global Studies, and now he's the coordinator for the Power Africa Program.
Mark Carrato earned his MA in International Studies (now the Global Studies department) from the UO. Today, he's a United States Agency for National Development (USAID) Foreign Service Officer and Coordinator for Power Africa. Power Africa is the world's largest partnership for development, with 160 public and private partners who have committed billions of dollars to bringing sustainable sources of electricity to sub-Saharan Africa. Their goal is to provide 30,000 megawatts of electricity and 60 million electricity connections across the continent. To date, Power Africa has already supported over 18 million connections, which has resulted in first-time electricity for more than 87 million people.
"Africa isn't going to build out fast enough to get everyone connected through a traditional grid system, so there's this off-grid revolution where people are getting affordable and increasingly powerful abilities to power their own homes to have things like internet access, refrigeration, and cooking without the need for an established grid," Carrato said. "Energy access and the ramifications of energy poverty are incredibly dramatic. Without power, you miss a huge fundamental building block. You have to make sure people, especially those who can't get the grid affordably, have an opportunity to start on the economic ladder, and they need to be connected to do that."
The Power Africa program was the second development initiative during President Barack Obama's second term in office. During his presidency, development was raised to the level of defense and diplomacy, creating the "Three Ds" of national security. USAID leads the program, and Carrato said their aim is to be catalytic and targeted in their efforts to bring power to sub-Saharan Africa. The program is funded through Congress, but the vast majority of the capital needed is contributed by the private sector, and most of the efforts are rooted in renewable energy, principally wind and solar.
"Overall, the whole program is meant to leverage resources so they can work together. Everyone involved brings their resources, innovation and experience, and we help coordinate to get the work done. We try to show, based on best practices around the world, market principles, and on researched-based evidence, that things can be done a certain way," Carrato said. "For example, we helped Malawi with their first competitive solar power procurement at the utility scale this past year."
Through his time at the UO, Carrato said he was able to chart his own course in his studies, which led him to where he is today. Working from an initial interest in microfinance, he was able to work with the political science department, economics department, the law school and his own international studies department. This wrap-around interdisciplinary approach led him to Guatemala to conduct field research for this master's thesis, which explored the nexus of microfinance, gender, indigenous issues, and human rights.
"UO helped me think, and it challenged me. The cross-cultural communications that faculty brought to the program created a critical angle that you don't get at other university programs that are solely looking from a policy perspective," Carrato said.
Because of the field-based research he conducted with SHARE Guatemala, Carrato believes he was able to land his first job with USAID as a Presidential Management Fellow. He eventually joined USAID's Foreign Service, which set him on track for his position today. Carrato has also served in Colombia, Afghanistan, Ethiopia, and Kenya.  He's currently based in Washington D.C.
"The MA program directly related to my current position. It taught me to think differently from my peers," Carrato said. "When you're making policy recommendations or implementing a program that by definition pushes policy, you need to think about it in many different ways, and you've got to check your own baggage in a way that lets you see what could work best. UO prepared me to do that."
One of the many reasons Carrato enjoys his work on the Power Africa program is that it's creative. Carrato works with U.N. organizations, development partners, the private sector, and other governments as well. At the end of the day, Carrato says there's no debating the program's objectives. "It's beneficial for our own national security, for our own private sector, and critical for human development," Carrato said. "Everyone should have this basic building block, and that clarity of purpose is really reaffirming, especially when it gets challenging. I love that."
For current MA students in the Global Studies department, Carrato says to be opportunistic, and take advantage of what the UO has to offer. "I don't suggest having a blueprint, rather a compass. Understand where you want to go, but don't think you know how to get there. Let the world surprise you."
Learn more about the Power Africa program here.
By Victoria Sanchez, College of Arts and Sciences Communications