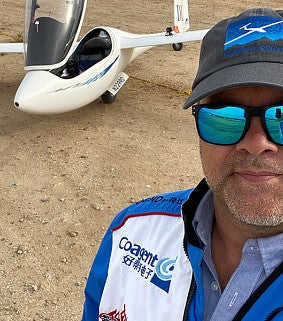 Thomson earned his degree in Chinese and Asian Studies, and went on to a successful 30-year career in global management industries. 
After growing up in Eugene and following his parent's footsteps by attending the UO, Mitchell Thomson used his BA in Chinese and BS in Asian Studies '90 from the UO to step into a successful 30-year career in global management industries, ranging from investment banking and entertainment to automotive electronics and beverage equipment. 
Thomson attended South Eugene High School, the 1st public school west of Mississippi that offered a Chinese language program. Thanks to a push from his father, Thomson began learning Chinese his freshman year of high school, which he says ultimately set him up for success. At the UO, Thomson continued his language studies, eventually changing his major from astrophysics to Chinese. 
"I probably learned more in the four to six months I studied abroad in Taipei, Taiwan then I did in seven years of studying Chinese. That's how critical study abroad is to language learning," Thomson said. "Really having to lean on myself and my communication skills furthered my fluency. One piece of advice I'd have for students studying abroad is to surround yourself with people that don't necessarily have good English skills, because it forces you to rely on your new language skills."
After graduating from the UO, Thomson returned to Asia to backpack across multiple countries before returning to the U.S. to earn his MBA at Willamette University in '93. Thomson then started his career back in Asia where he lived for 15 years, working in Hong Kong, Taiwan, and Shanghai. He first worked for FedEx with the Asia operations team, then moved into investment banking, automotive electronics, and finally relocated back to USA in '02.  
"Double-majoring in Chinese and Asian Studies gave me a good foundation to start from, and it certainly helped me later in my career with international business and supply chains," Thomson said. "Going from a Chinese literature major in 1990 to selling a $50 million-dollar business, that string of events and jobs wouldn't have been possible without the language piece, because it was central to everything I was doing. To be able to engage with ownership level people was probably the single biggest factor in me being able to do everything I did in my career." 
Most of the last 20 years of Thomson's career have been concentrated in cross-border supply chains and executive management positions. Recently, Thomson became Founder and President of Ss Brewtech, which he started from the garage of his home in Southern California. Ss Brewtech engineers and distributes high end home and commercial brewing equipment all over the world, and it was acquisitioned by a Nasdaq-listed public company just six years after creation. 
While he was living in Taiwan, Thomson also met his ex-wife, who later taught high school Chinese in southern California. Thomson said he's seen first-hand how Chinese is taught, but the teaching methods haven't been responsive to how technology has affected the use of the language. 
"Overall, I'd like to see less focus on handwriting of Chinese and more of a focus on recognition and reading that really relates how the language is used now. People type things into a smartphone using an English keyboard constantly, so encouraging the use of technology for assignments and interacting with teachers can be really crucial," Thomson said. "And classes that pull in language learning along with applicable subjects, like Chinese for business, would be extremely helpful. That was one missing piece from my language studies that I had to learn the hard way."
Thomson said alternative ways of learning and practicing the language outside of a traditional classroom routine are more conducive to learning a language. From singing Karaoke songs to watching modern sitcoms in Chinese, colloquial context doesn't normally find its way into a textbook, yet in Thomson's experience, it's more often used in an everyday setting.
Contemporary applications of language is exactly what the new School of Global Studies and Languages aims to bring to UO students, and Thomson said he is looking forward to the opportunities for current students to take their language learning skills and directly apply them to the careers they aspire to, not only in a linguistic context, but a cultural one as well. 
Currently, Thomson spends his days flying glider planes out of Crystalaire Airport Soaring Academy. He currently has done over 300 flights, owns a 2010 Schleicher ASG29 sailplane, and cohosts the podcast Soaring the Sky Podcast. 
By Victoria Sanchez, College of Arts and Sciences Communications