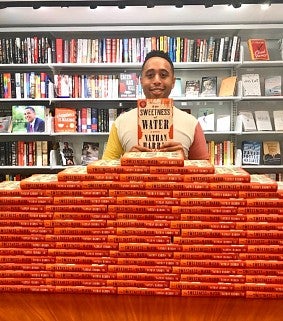 Nathan Harris graduated with a B.A. in English, and now he's a New York Times best-selling author.  
Nathan Harris has always known he wanted to be a writer. From a young age growing up in Ashland, Oregon, Harris loved to write, and knew he wanted to study English. When it came time to apply for college, Harris canvassed his options, and the University of Oregon offered a unique creative writing curriculum. From the yearlong Kidd Tutorial program to the robust Creative Writing program, Harris said the College of Arts and Sciences had everything he wanted.  
"What was more important than anything else were the connections I built with my professors while at the UO," Harris recalled recently. "Jason Brown, Jane Ridgeway, Sara Blakely-Cartwright. They were all willing to meet with me at any point, and I'll never forget that."   
After graduation from the UO in 2014, Harris went on to earn his Masters of Fine Arts from the University of Texas at Austin, where he was a Michener Center for Writers recipient. Now, only a year later, he's on The New York Times best-selling author list at just 29 years old.  
His book, The Sweetness of Water, has been a smash hit. It's an Oprah's Book Club Pick, and it's on President Obama's Summer 2021 Reading List. The novel also has been longlisted for the 2021 Booker prize.
Harris' book is set in the waning days of the Civil War and follows two brothers freed by the Emancipation Proclamation as they seek work on a homestead in Georgia. Parallel to their story, the novel pans to the story of two Confederate soldiers, their budding but forbidden romance, and the aftermath once their relationship is discovered.
Writing historical fiction at a young age was intimidating, Harris said, but having people around him whom he trusted and built relationships with gave him the push to explore the work. He began writing the first chapter of the novel while at the UO. A conversation he had with Brown inspired him to finish the story as a novel. "I never start writing anything with the idea that this is a novel, a short story, or a novella. You just have to follow where the story takes you. Its length is dictated by the characters and the plot," Harris said. "Jason was very clear that he felt what I had written could be a novel and gave it that little push it needed."
Harris' best advice for current UO students in the English and Creative Writing programs? Don't be afraid of reaching out to anyone in the departments, and don't shy away from ambitions. "The professors really foster an environment where you can grow as a writer, practice your craft, and get the feedback you need to improve," he said. "So always have the courage to follow your dreams."
The Civil War era is a particularly fascinating historical period for Harris, but he'd never read a book that was based on the days immediately after the war, specifically during the period that followed the freeing of slaves.  
"If at some point the book you're looking for hasn't been written, then you have to take it upon yourself to write it. And I gave it my best go," Harris said. "I'm inspired by my favorite novels, like the work of Edward B. Jones, Cold Mountain by Charles Frazier, Beloved by Toni Morrison. These books add something to the historical fiction genre that I hadn't seen before, and they gave me the courage to think that if they could do it, I could do it." 
When Harris set out to write the novel, he says he just wanted an audience for the story. He wanted to connect with readers and give them the feeling that he had reading books that meant so much to him, that had the power to move people, make them laugh and make them cry. Now, as his debut novel continues to skyrocket, he describes the experience as surreal.  
"I wake up happy every day, and I know somebody out there is reading the work and hopefully enjoying it. And that's what it's all about. That's why we do it." 
By Victoria Sanchez, College of Arts and Sciences Communications