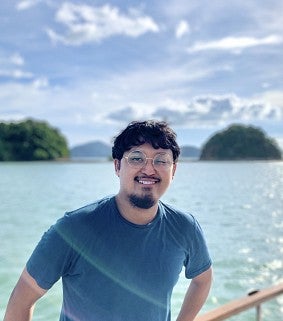 Rudy earned his Master's Degree in Geography, and now he works for Planet helping customers use satellite images of the earth to fight wildfires.
Rudy Omri earned his Master's Degree of Geography in 2016 from the University of Oregon. Currently based in Kuala Lumpur, Malaysia, Rudy has used his geography degree to work in a variety of sectors across the world. Rudy holds a Bachelor's of Science in Cartography and Geographic Information Systems from the University of Wisconsin-Madison, and when it was time to continue his education in the geography field, UO was his first choice.
Rudy was always interested in cartography. After meeting Jim Meacham, executive director for the InfoGraphics Lab, at a conference in South Carolina and learning about the lab, Rudy knew Oregon was the right place for his studies.
Once a spot as a GE in the InfoGraphics Lab became available, Rudy didn't hesitate to accept it. From there, he worked on the Wild Migrations: Atlas of Wyoming's Ungulates. His time in the lab gave Rudy the skills he needed for map production.
"It's not just a matter of making beautiful things," Rudy said. "Mapmaking is about getting the accurate dataset and being precise. This is something that the InfoGraphics lab helped put into perspective for me."
His experience at the InfoGraphics Lab landed him a summer internship spot with the New York Times in 2016. Graphics journalism and cartography are closely related, so he decided to explore this connection through the internship. "Having a degree in geography opens up a lot of doors. It allows you to explore a lot of different avenues," he said.
After his internship with the Times, Rudy moved to Singapore where he worked as a GIS manager for the National University of Singapore. NUS is one of the top geography schools in Asia, so Rudy knew the position would strengthen his experience and skills in geography. Shortly after, Rudy was offered a job as a GIS manager for Roundtable on Sustainable Palm Oil (RSPO), which is a global nonprofit organization based in Malaysia. They manage and ensure certification for palm oil sustainability.
"Sustainability is also one of my interests," Rudy explained. "Even back as an undergrad, I always wanted to make some sort of impact with the work that I do." After two years at RSPO, Rudy's interest in sustainability brought him to his current role at Planet.
Planet is a space company that produces nanosatellites to capture daily images of the earth. Rudy helps customers utilize their satellite images in the most effective way, for instance, some clients use satellite images to detect early wildfire hot spots. This helps mitigate forest fires since early detection allows for early intervention, preventing the fires from spreading.
"At every stage of my career, I've been doing different things. I think that's the best part of having a geography degree," Rudy reflected. "And the research being done in the geography department at UO is very diverse. My studies weren't in a silo but actually gave me an opportunity to learn a little bit about everything."
To the current and future students in the geography department, Rudy suggests taking advantage of the interdisciplinary education the department offers. Specializing in one area of geography is important, but Rudy also advises learning about the other branches of the discipline in order to leave the UO with a well-rounded education. "Follow your passions, but don't shut out other opportunities just because they don't fit in with your specialization," Rudy said. Such willingness to explore "opens a lot of doors in the long run."
By Victoria Sanchez, College of Arts and Sciences Communications