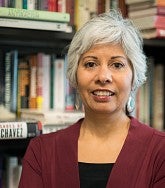 Laura Pulido, professor of Indigenous, Race and Ethnic studies and geography, has been awarded two prestigious awards for her work in the field of geography.
Pulido has won the Distinguished Scholarship Honors for 2022 from the Association of American Geographers (AAG), the highest award offered by the AAG recognizing outstanding accomplishments by members and the most prestigious award in American geography.
Pulido's work in environmental justice and Latinx geographies earned her the award, and her article, "Rethinking Environmental Racism: White privilege and urban development in Southern California," is one of the most cited articles for the organization.
Pulido also was awarded the Cullum Geographical Medal for Research from the AAG, given to those members who distinguish themselves through geographical discoveries or advancement of geography. Pulido's work on environmental justice was praised by the American Geographical Society for profoundly affecting the way environmental and social justice issues are framed.
"These are both awards that people receive after many years of making contributions and impact, so receiving them has put into perspective that I'm at that part of my career," Pulido said. "When I started in the field of geography, there was very little work around the study of race. People didn't think it was something you studied in geography, and now, it's recognized as being a fundamental thing we need to be attentive to, so that feels really good."
Pulido is studying the way white supremacy impacts environmental issues and the way white nationalism shapes the landscape in unanticipated ways. Her project on 2,600 national landmarks in the United States involves looking at how they don't usually represent white supremacy and settler colonization across American history. The landmarks are being put into a large database and Pulido hopes to write a historical atlas of foundational white supremacy and the processes that were instrumental in the creation of the U.S. nation, territory and country.
Pulido has always worked at the intersection of both the geography field and indigenous, race and ethnic studies. She views race and racism as fundamentally spatial processes, and therefore essential to understanding both contemporary and historical geography. 
"It feels really great now that there's actually a term called Latinx geographies and I'm one of the ancestors of this term, so it's great to see the new generation really taking that on and continuing to push forward that field."
By Victoria Sanchez, College of Arts and Sciences communications