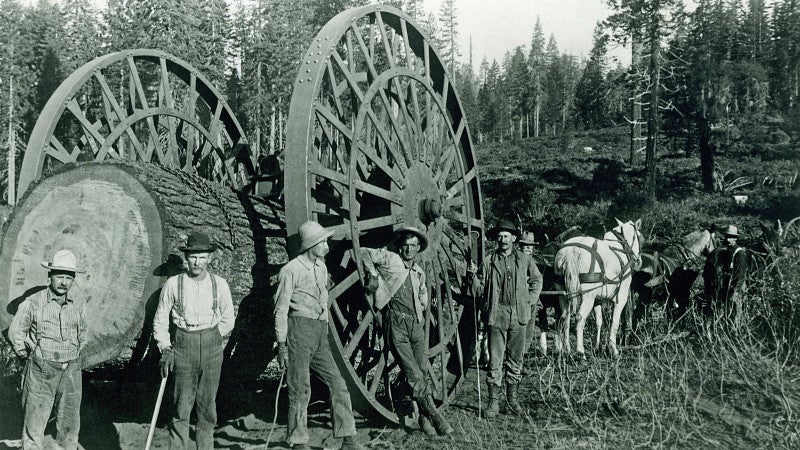 Trees and forests make up much of the Pacific Northwest landscape, from British Columbia to southern Oregon. In his debut award-winning book, Department of History Assistant Professor Steven Beda explores timber-working communities who worked and lived in these forests and their connection to the environment. 
Beda's debut book, Strong Winds and Widow Makers: Workers, Nature and Environmental Conflict in Pacific Northwest Timber Country, is the winner of the Philip Taft Labor History Book Prize from Cornell University and is a co-winner of the Pacific Coast Branch Book Award.
After conducting research and interviews, Beda wrote in his book that timber workers have long been concerned about the health of forests — and not just for their livelihoods, but for what the woods mean for them.
The perception of timber workers has changed over time. In the early 20th century, they were seen by employers as "cogs in an industrial machine that could easily be replaced when killed or injured or when they were discharged for union activity," Beda said.
What surprised Beda during his research was that from the 1930s to the 1950s, timber workers and Depression-era environmentalists saw each other as allies.
"Many environmentalists of the Depression-era believed timber workers were at the vanguard of progressive conservationism," Beda said. "The political force that would lead resource extraction industries from a past of wanton environmental exploitation to a future of responsible and sustainable land use."
But environmentalists and timber workers drifted away, especially when logging activity threatened the spotted owl, which has been on the US Endangered Species list since 1990 and led to a long political battle of federal timber policy. That's when workers and employees then saw themselves on the same team: a hard-working rural community increasingly coming under attack from environmentalists and urban politicians. 
During his research, Beda spent time in city libraries, in the University of Oregon's Special Collections and at historical societies in rural counties throughout the Pacific Northwest. But one of his favorite forms of research came from oral histories of current and retired loggers in timber towns from Courtenay, British Columbia, to Port Orford, Oregon.
He also hiked trails through public forests, hunted and fished as a way to speak with timber workers. "People speak with you differently when they think you're just another angler on the river rather than a historian writing a book," he said.
What Beda found while writing his book was that workers embraced —sometimes even celebrating — the danger of the woods. They saw that danger was manageable, Beda said, even though even the most skilled timber workers were injured or killed on the job.
"Still, most workers believed that by accruing knowledge of the environment, learning to navigate the landscapes where logging took place, and honing their skills, they could control the work and make it safe," Beda said.  
A key argument from Strong Winds and Widow Makers is that logging isn't the only way that timber communities have known or been familiar with forest environments. These communities have a stewardship to the environment through activities such as fishing, hunting, hiking, foraging and camping.
"The forests are their homes, woven into their communities, and part of their identities — places they work in, and then return to outside their formal working hours to find solace and relaxation," Beda said. "Timber working communities have long sought to protect the woods because, by doing so, they're protecting an important part of themselves."    
—By Henry Houston, College of Arts and Sciences