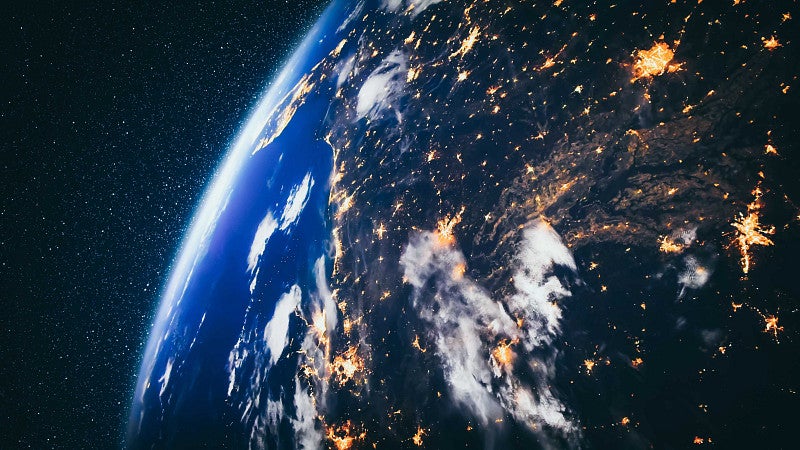 A two-day conference will honor the work of University of Oregon Department of Geography Professor Alec Murphy and will discuss the changing significance of territory and the rise of right-wing populism in response to the changing state of borders.   
The geography conference, titled "Rethinking Territory: Global Shifts, Local Dynamics," is co-sponsored by the College of Arts and Sciences and the Global Justice Program, and it will feature academic scholars from around the world. The event is Saturday, June 3, and Sunday, June 4. 
The program coincides with Murphy's retirement; the 2023-24 academic year will be his last as a professor. Among the academic work he's completed during his 36-year tenure at the UO is writing about the populist reaction to globalization, which relates to the conference's theme.  
"We're living through a period of considerable upheavals in the way we've traditionally thought about territory and the political map," Murphy said.  
With the increasing presence of the internet, modern technologies and human migration, national borders have less of an impact on keeping global issues at bay. And that's led to some leaders in countries around the world returning to right-wing, nationalist ideologies.  
The 2022 Russian invasion of Ukraine is an example of traditional politics, with a military power exercising its power over a geographic neighbor. 
"You know, build more walls, my country 'über alles,' the sort of turn toward right-wing populists," Murphy said.  
In 2013, Murphy first wrote about the right-wing reaction to the change of borders, cultures and norms due to the internet and immigration in the peer-reviewed journal Annals of the American Association of Geographers. After spending time researching in countries such as China, Iran, and Russia, he'd observed that nationalist ideas were resurgent. 
He revisited that article in 2022, looking at nationalistic responses to the COVID-19 pandemic, and how countries closed borders and mobilized vaccines for nationalist purposes.  
The event will feature presentations by geography scholars on issues including borders in Israel and Palestine by Professor David Newman of Ben-Gurion University of the Negev in Israel, white supremacy in US National Historic Landmarks by Professor Laura Pulido of the UO, the trade war between the US and China by Distinguished Professor Henry Yeung of the National University of Singapore — and more.  
— By Henry Houston, College of Arts and Sciences