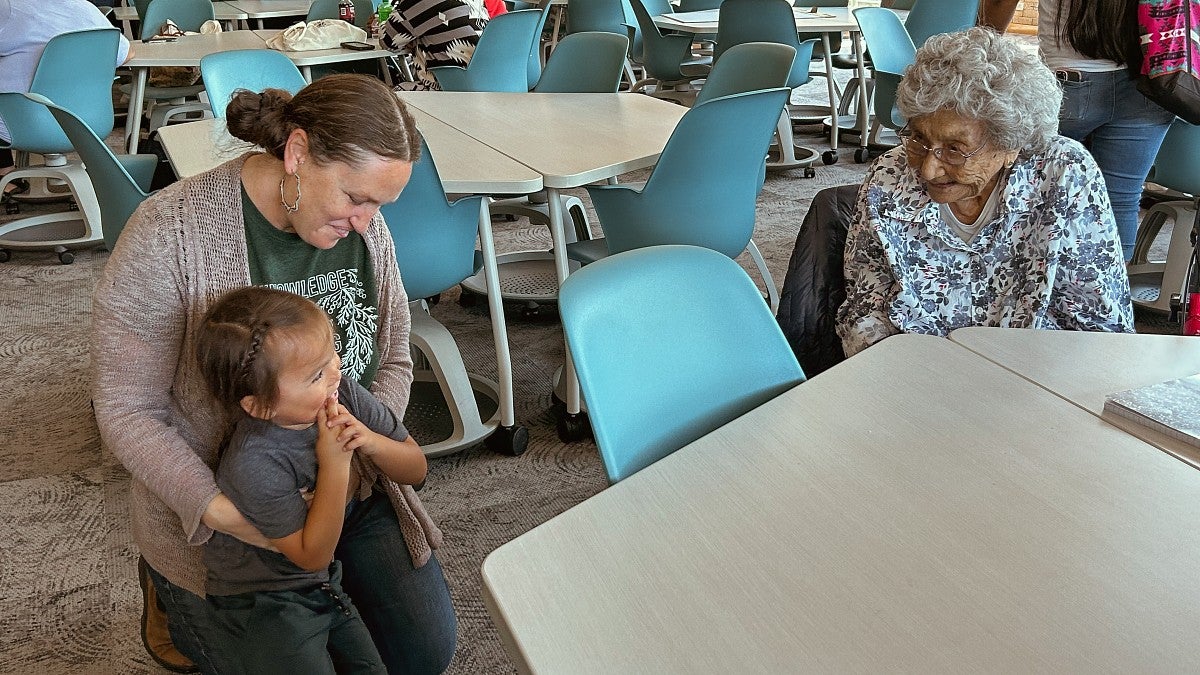 November 20, 2023 - 3:00pm
The University of Oregon's Northwest Indian Language Institute will establish a resource center aimed at the revitalization of Pacific Northwest Indigenous languages with the support of more than $1.7 million in funding from the US Department of Education.
For more than 25 years, the Northwest Indian Language Institute (NILI) has been working with tribes, schools and other groups to revitalize endangered Indigenous languages. Creating the Northwest Regional Native American Language Resource Center will further support language restoration efforts, making it better positioned to help Indigenous students in the region learn and speak their tribal languages.
Established in 1997, NILI is an institute within the College of Arts and Sciences. The institute's new center will "take the essential pieces of what NILI does and allow us to grow," said Janne Underriner, founding director of NILI.
"We're not starting from scratch—we have a long track record of doing this work," Underriner added.
For centuries, the United States government has enforced colonial assimilation policies upon Indigenous people, to eradicate their lifeways, language and culture. In the past 150 years, children were forcibly sent to boarding schools, where they were punished for speaking their language and practicing their traditions.
For Indigenous youth, being unable to speak their language "severs a connection between their elders and ancestors," Underriner said. "Boarding schools took languages away. I feel that now, working with tribal nations, school districts and the university, it's our work to bring them back."
Revitalizing Indigenous languages has its challenges. The majority of elder speakers in Indigenous communities, whose second language was English and who were forced to attend boarding schools, have died. And those in Indigenous communities who are bilingual speakers, who learned their Indigenous language and English as their first languages, are dwindling, according to Underriner. So, teaching new generations is more urgent than ever.
With the new funding, which will support the center for five years, NILI will expand its reach, building new connections in Alaska, Idaho and Montana and strengthening existing ones in Oregon and Washington.
One of the goals of the center is to support Native American language instruction curriculum in educational systems throughout the Pacific Northwest, teaching the courses similarly to other world languages, according to the grant.
The grant will allow the team to create and compile shared resources and trainings, to support Tribal language programs in their own work. And they will work with school districts, state departments of education and tribes to develop language course programs in schools and communities.
"Schools with Tribal language programs taught by teachers from the Tribal community nurture Native students' cultural knowledge through speaking the language," Underriner said. "Students bring the language and culture home to their families. In this way, Tribal language programs in schools have the potential to serve as a bridge between school, home and community."
In conversations with tribal youth, Underriner said they feel a sense of identity when their Indigenous language is taught in the classroom by teachers who look like them.
By speaking the language and hearing it every day, students are working to keep their languages alive, Underriner said. Youth who learn their tribal language recognize the sacredness of the language, and it's an act of honoring their ancestors and the last speakers of the language.
"There's still so much more that's needed to be done in the Northwest," Underriner said. "But having the resource center at NILI will provide support for Native students to build relationships with Tribal Nations, and nonnative students who are interested in this work in building relationships with tribes. In a way, it's a real boost to the university."
— By Henry Houston, College of Arts and Sciences
— Top photo: Dr. Virgina Beavert, right, is a member of the Yakama Nation and a highly respected teacher and fluent speaker of her language, Yakima Sahaptin.