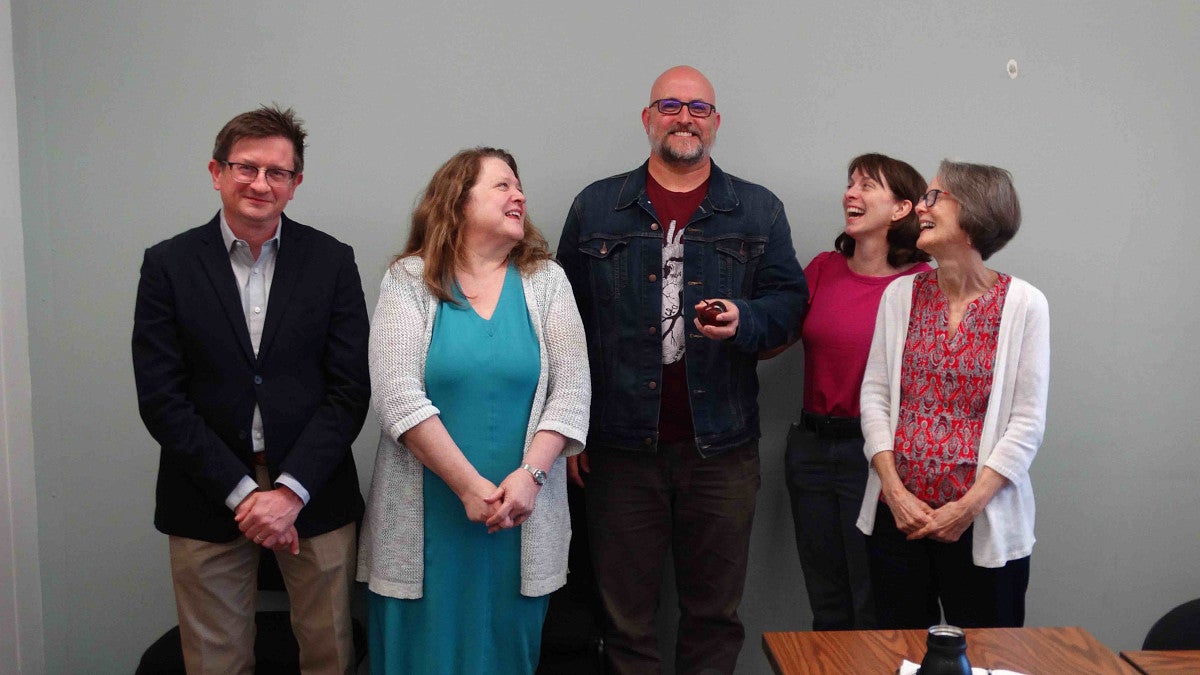 Six College of Arts and Sciences faculty members were surprised in their classrooms during the 2023 spring term with news that they had won a Distinguished Teaching Award.
Winners of the award, an apple-shaped trophy given by the Office of the Provost, are recognized for their exceptional teaching that is inclusive, engaged and research-informed.
This year's 2023 Distinguished Teaching Award winners from CAS are Jocelyn Hollander, professor of sociology; Faith Barter, assistant professor in English; Alex Zunterstein, senior instructor in Spanish; Kirby Brown, associate professor of Native American literatures; Robin Hopkins, senior instructor of human physiology; and Tricia Rodley, senior instructor in theatre arts.
Outside of CAS, Michael Moffitt, Philip H. Knight Chair and professor in law, and Tannaz Farsi, professor in the School of Art + Design also received teaching awards. Read more about the winners here.
Herman Faculty Achievement Award
Hollander, who has been with the university for 26 years, received the Herman Faculty Achievement Award. The sociology professor's peers and students highlighted her ability to inspire engagement in her classes. Hollander challenges students to reach higher, offering support on the way to success, nominators said. Transparency is also championed in her courses, with materials that have clear learning objectives. Hollander will receive an award of $2,000 and a salary increase. 
This year's Ersted Award for Distinguished Teaching was awarded to Barter, assistant professor of English. Barter, whose focus is 19th century African American literature and legal history, has developed 10 new classes since joining the university in 2018. Students shared how much they valued Barter's strong communication skills and the quality of the content in her classes. Nominators said she encourages students to look at historic texts through a modern lens and centers the voices of people of color in the classroom. Barter will also receive a $2,000 award and a salary increase. 
Herman Award for Outstanding Online Education
Zunterstein received the Herman Award for Outstanding Online Education, which recognizes innovative and creative teaching in online and hybrid classes.
The Spanish instructor has been a faculty member at the university for 19 years. Zunterstein serves as assistant department head in romance languages and coordinates the Spanish Heritage Language Program.
Students have appreciated his inclusive teaching practices, which allow for engagement opportunities even in the online sphere. One faculty member said Zunterstein "is closely watching the successes and areas for improvement each term and making adjustments based on the level and interests of his students."
Zunterstein will receive a $5,000 award. 
Herman Award for Specialized Pedagogy
Brown, Hopkins and Rodley were selected for the Herman Award for Specialized Pedagogy, which celebrates outstanding achievement and expertise in a specific area of teaching. The winners each receive a $5,000 award. 
Brown has been with the university since 2011. Nominators said he operates with a "pedagogy of discomfort," encouraging students to embrace the unfamiliar. 
"His goal of exposing students to Indigenous communities, histories and cultural practice in his teaching, alongside his holistic and committed approach to community building among Native students, has been an enormous asset to UO's mission to promote inclusive teaching," wrote Harry Wonham, divisional associate dean for humanities. 
Hopkins is a "superstar" in the human physiology department, according to department head Andy Kurduna. She has been teaching at the UO for nearly a decade. Kurduna added that her leadership and generosity have bolstered the quality of teaching across the curriculum. 
"Robin Hopkins is a utility player on the Human Physiology teaching team, except she happens to be superlatively good at every position," then divisional dean Hal Sadofsky wrote. 
Rodley, who is an instructor in theater arts, has made significant efforts toward removing barriers to learning. Nominators said she reviewed program requirements and recommended changes to improve enrollment and diversity. Each year, Rodley directs at least one play and helps students with dialect coaching during the production season. She has been with the university eight years.