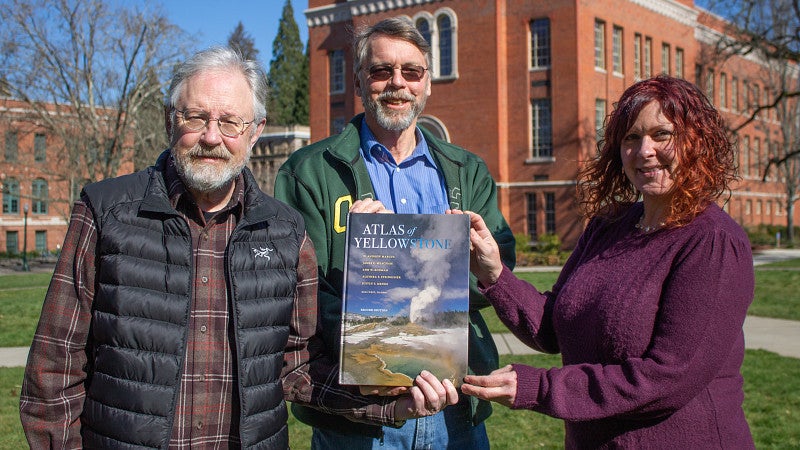 The UO InfoGraphics Lab's second edition of The Atlas of Yellowstone has won two competitive map awards through the Cartography and Geographic Information Society: one for Best of Show and a tie for Best Book or Atlas with National Geographic. 
The Atlas of Yellowstone is by W. Andrew Marcus, senior editor; James E. Meacham, cartographic editor; Alethea Y. Steingisser, cartographic production; Ann W. Rodman; Justin T. Menke; and Ross West. Marcus, Meacham, Steingisser and Menke are all members of the university's InfoGraphics Lab, part of the College of Arts and Sciences. 
The production of the second edition, which was published in January 2022, was particularly unique due to the issues of the pandemic and the presence of racial justice protests occurring across the country. This significantly revamped edition adds conversation about the racial makeup of populations present in national parks, as well as stories and data that uplift Indigenous populations. 
"Something that we really wanted to honor was the way in which Black Lives Matter exploded on the scene during the production," Marcus said in a previous interview about this edition. "We very much wanted to acknowledge the issues of diversity around national parks. They have not very well served a lot of populations, and that is something that needs to be addressed." 
Meacham expressed his appreciation for the win at the 50th Annual CaGIS Map Design Competition awards based on the competitive lineup of the other maps. "Winning the 'Best of Show' award from CaGIS is such an honor," Meacham said. "Especially considering the other entries in the competition were from what I consider many of the top cartographers and publishers around; from National Geographic, Esri, University of Wisconsin-Madison, and Brigham Young University."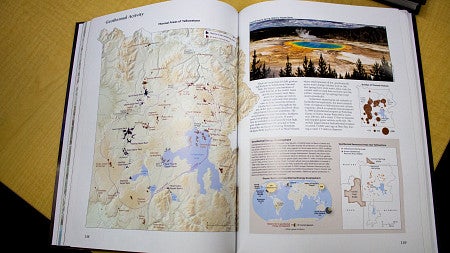 Meacham also mentioned the production of the second edition. "I was really pleased with this second edition," Meacham said. "The team did a great job tackling many visualization challenges including communicating the region's socio-economic shifts, climate change and its consequences, all the new wildlife data, and the dynamics of Yellowstone's geology."  
Steingisser explained that "creating any atlas is a monumental task, from building relationships to working with topic experts to gathering data to designing hundreds of maps and data graphics that all need to fit into a cohesive design."  
"These awards celebrate the efforts of all who contributed to the creation of new and updated content for the Atlas of Yellowstone, Second Edition - from the student cartographers working in the InfoGraphics Lab, to the many dozens of topic experts who contributed their data, time, and expertise to tell Yellowstone's many stories. We are all so very honored to be recognized for these efforts," Steingisser said.  
-By McKenzie Days, College of Arts and Sciences