The referenced media source is missing and needs to be re-embedded.
While on a panel at the San Diego Comic-Con International about founding the world's first-ever college comic studies minor, University of Oregon Professor Ben Saunders had an unplanned interruption.
Saunders, who was speaking on the panel alongside UO Assistant Professor Kate Kelp-Stebbins, was about to be surprised with the Comic-Con Inkpot Award for his impact on the comic industry. And he had no idea that he would receive the award, even though he had a special guest in the audience, Comic-Con Director of Programming Eddie Ibrahim.
"I was thinking, 'It's nice of Eddie to come to my panel,'" Saunders said. "But I had no idea why he was there. This was not on my radar at all." 
Since 1974, the award recognizes individuals for their contributions to the world of comics, sci-fi/fantasy, film, TV, animation and fandom. Saunders joins filmmaker Hayao Miyazaki, Peanuts comics strip creator Charles Schulz, sci-fi novelist William Gibson — and many more legendary artists, writers and auteurs.
"My imposter syndrome was immediately triggered when I saw the names of previous winners. Many of my personal culture heroes — Ray Bradbury, Jack Kirby, Alan Moore — are on the list," Saunders said. "On the very day I received my award, another one was also given to Junji Ito — a manga artist that I consider to be a genius-level talent. So, part of me was convinced it was a mistake that I had been given one at all."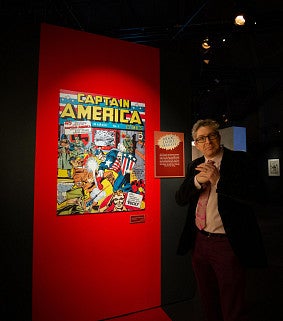 The other winners of the 2023 Inkpot Award are comic book creator Becky Cloonan, actress Felicia Day, cartoonist Raina Telgemeier, comic book writer Beau Smith, comic book writer David F. Walker and Native American cartoonist Ricardo Caté.
Since the mid-2000s, Saunders has been working to elevate the comics medium through institutionalization, preservation and study. He's had exhibitions at the Jordan Schnitzer Museum of Art at the university, as well as the Museum of POP in Seattle, the Franklin Institute in Philadelphia, Pennsylvania, and the Comic-Con Museum in San Diego, California.
Saunders also served as series editor and author of scholarly introductions for two of the Penguin Classic Marvel Collection on Spider-Man and Captain America. Those two publications were the first time that comics have appeared under the distinguished scholarly imprint, he said. 
And, of course, Saunders worked to create the first in the nation comic studies minor, which is offered in the College of Arts and Sciences.
"Our minor in comic studies has inspired many imitators since 2011, but at the time it was the first such undergraduate minor in the country," he said.
The Inkpot Award wasn't the only industry-wide attention CAS faculty received at Comic-Con. Saunders and Kelp-Stebbins were nominated together for an Eisner Award for the book they co-edited titled The Art of the News: Comics Journalism. Kelp-Stebbins was nominated for another Eisner Award for her book How Comics Travel: Publication, Translation, Radical Literacies. 
After receiving the award, Saunders has no plans of slowing down. He has a few book projects and exhibitions in the works, and he'll always be proselytizing the art of comics while working to help students find careers in the industry.
"It says 'Achievement in the Comic Arts' on the Award itself, and I just feel very honored that the work I've done has been considered significant enough to rise to this level of recognition," Saunders said. "The truth is that I love what I do, I love comics, and I'm really just lucky to be able to work with what I love. Everything else really is gravy."
— By Henry Houston, College of Arts and Sciences