---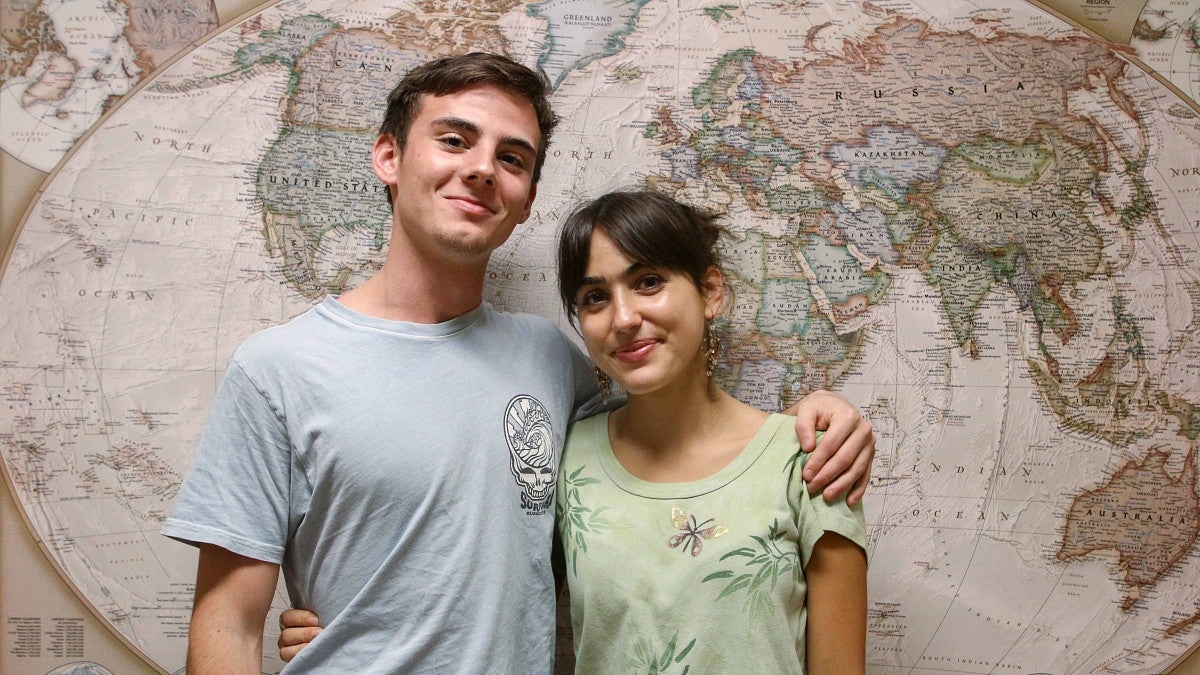 ---
Giving Peace A Chance
Where in the world could College of Arts and Sciences undergrads Ila Brown and Charlie Petrik end up after college? 
Anywhere, if they land a spot to serve in the Peace Corps. 
Brown, who is majoring in global studies, and Petrik, a global studies and geography double major, have been inspired by their coursework and peers to apply for the US program, whose mission is to promote world peace and friendship.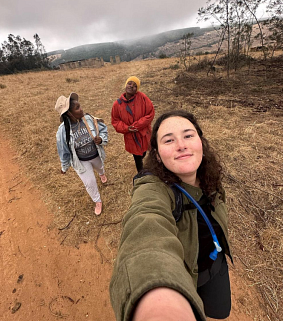 Getting accepted means a 27-month commitment to serve in a foreign country. These two third-year students, who are dating, hope to give back to the world what they've learned at the University of Oregon.  
"Being in the Peace Corps gives you the opportunity to use your education and your degree in a meaningful way," Brown says. "It just feels like you're doing more with your degree, especially fresh out of college."
The UO has a long history of sending graduates through the Peace Corps. The university is No. 23 on the Peace Corps' list of all-time, top volunteer-producing colleges and universities, according to the US government program, having sent more than 1,300 graduates to countries around the world since the program's founding in 1961.
Carolyn Williams, the Peace Corps' strategic campus recruiter at the UO, helps students prepare for the application process, providing feedback on resumes and offering insight as a returned volunteer.
Williams herself was an education volunteer in Azerbaijan, an experience she says changed how she views the world. 
"I learned that I was capable of difficult things and that I was more resilient than I thought," she says. "I have new insight into what home means and know that I am able to create and build a community, even when I'm outside my comfort zone and living in a very different culture than how I was raised."  
The School of Global Studies and Languages offers students in the College of Arts and Sciences (CAS) a Peace Corps Prep Certificate, a way to improve their chances of being selected to serve in a program that offers assignments to about one in four applicants.
"Having a well-rounded education, especially on the topics of intercultural skills and competencies, is extremely important if a student is hoping to live and work abroad in any capacity," Williams says. "It is important to reflect on our place in the global community to ensure that when we join a new community, we are aware of our role within that community."  
CAS's Peace Corps certificate and global service minor enable students to grow their global perspectives. The certificate program requires students to take 12 credits, as well as have a global regional focus, hands-on learning experience, professional development and language proficiency.
In 2019, the UO and the Peace Corps partnered to develop the certification, according to Diana Callaway, a spokesperson for the agency. In addition to taking coursework related to the Peace Corps, students must also complete at least 50 volunteer hours in the sector they're interested in. For example, if they want to apply for an agriculture-related assignment, a student can volunteer at a community farm.   
"A standout quality among our top-producing universities and colleges is a university's commitment to service in meeting global challenges like food insecurity and climate change," Callaway says. "Right now, there is an urgent call to action, and UO graduates are part of a strong tradition of big-hearted problem solvers and changemakers."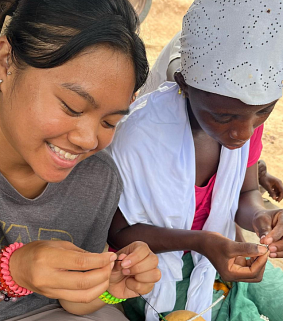 Students like Brown and Petrik who aspire to serve in the Peace Corps have a strong sense of adventure and the will to enact change, Williams says. "They see that the Peace Corps is an excellent option for becoming a part of a global community and helping those communities reach their goals." 
Brown and Petrik say that speaking with CAS graduate students or faculty members who served in the Peace Corps can often illustrate the transformation that being in the program has had on their perspectives.
"It makes the Peace Corps more accessible," Petrik says. "If you're visiting during their office hours, they can share their experience with the Peace Corps to justify why they think the way they do. It makes it easy to connect with."  
Brown and Petrik are both studying languages—Arabic and Spanish, respectively—but they're applying to serve as a couple in a random country to increase their chances of getting an assignment. They also like the fact that they have no idea where they could be in a few years.  
"That's the most beautiful part about it," Brown says. "Rather than applying to a specific program, you have to adapt, and it forces you to unlearn a lot of things about planning. You can't have any expectations for it."
—Henry Houston, MA '17 (international studies), is a communications coordinator for the College of Arts and Sciences.